Product Overview
SUPER MULTI VITAMIN
OVER 110 ACTIVE INGREDIENTS
~MENTAL FOCUS COMPLEX
~ANTIOXIDANT COMPLEX
~REDS AND GREENS COMPLEX
~PERFORMANCE COMPLEX
~LIBIDO SUPPORT COMPLEX
~STEROL COMPLEX
~JOINT REPAIR AND RECOVERY COMPLEX
~DIGESTIVE COMPLEX
~ESSENTIAL FATTY ACIDS COMPLEX
~RAW GRANDULAR COMPLEX
~AMINO ACID COMPLEX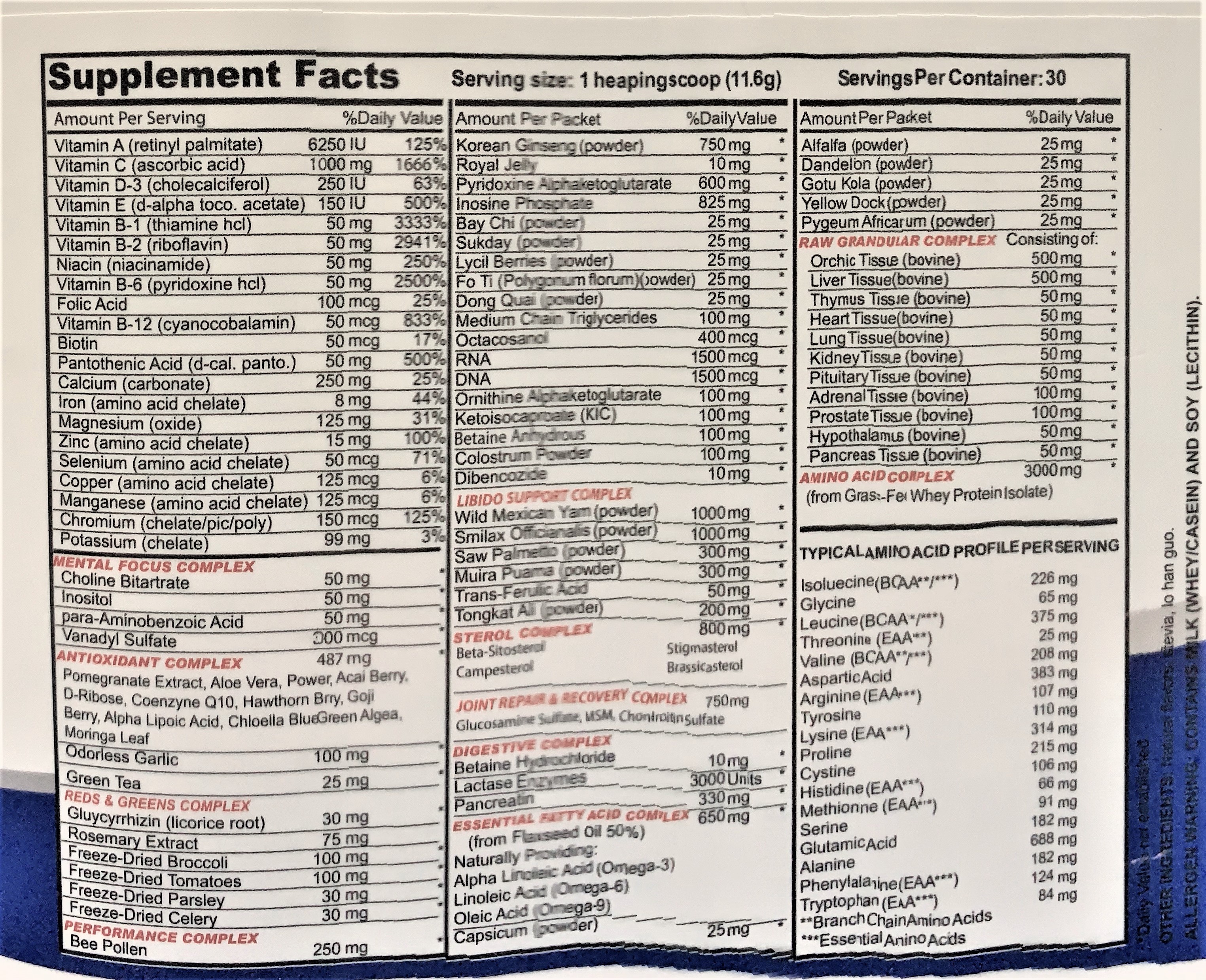 *Daily value not established
SUGGESTED USE: MIX 1 SCOOP WITH 6-8OZ OF COLD WATER, PREFERABLY WITH MEALS.
WARNING: AS WITH ANY DIETARY SUPPLEMENT, CONSULT WITH A LICENSED HEALTHCARE PROFESSIONAL PRIOR TO USE.
DO NOT USE IF PREGNANT OF NURSING.
~THESE STATEMENTS HAVE NOT BEEN EVALUATED BY THE FOOD AND DRUG ADMINISTRATION. THIS PRODUCT IS NOT INTENDED TO
DIAGNOSE, TREAT, CURE OR PREVENT ANY DISEASE.
OTHER INGREDIENTS: NATURAL FLAVORS, STEVIA , LO HAN GUO.
ALLERGEN WARNING: CONTAINS MILK (WHEY/CASEIN) AND SOY (LECITHIN).
Reviews